CROOKSTON, MN WAREHOUSE
2110 S. Main Street
Crookston, MN 56716
Phone 218-281-2236
Fax 218-281-2558
LaBudde's Crookston facility provides over 110,000 square feed of storage for local and national businesses. With a "can do" attitude, anything is possible. Food grade storage, organic storage, bagging, screening and lot identity are all possible at Crookston to help improve your bottom line.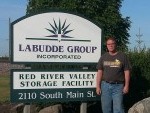 Frank Caputo – (September, 2014)
Facility Manager
Prior to joining LaBudde, Frank was a supervisor with one of the nation's largest manufacturers of potato products. He enjoys his new position with Labudde and looks forward to its daily challenges. In his spare time, Frank likes to spend most of his time watching his grandson grow up and is very proud of him! Frank also enjoys hunting, angling and fantasy football.