AKRON, MI WAREHOUSE
3880 Rayl Road

Akron, MI 48701
Phone 989-691-5714
VIEW THE AKRON, MI FACILITY VIDEO OVERVIEW
LaBudde's Akron facility is an industry leader in the further processing of Beet Pulp as an ingredient in the highest quality horse feed in the nation. LaBudde developed this quality process which is now the industry standard and unmatched in the country. We are also the largest service provider of Beet Pulp bagging east of the Mississippi River. Our efforts here help allow Midwest Agri-Commodities maintain their well-deserved position as the premier sugar by-product marketer. We are also one of the major dryers and processors of tomato pomace for pet food use. With a full complement of drying, grinding, screening, bagging and other processing equipment, remember our Akron facility as the place for all your special and unusual needs. LaBudde's Akron Facility is the world's leader in processing a consistent mixture of vegetable products for use as a pet food ingredient. Whether it is apple fiber or coffee grounds, Akron has the proper attitude to do what you need done.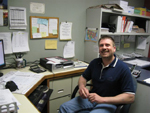 JOE POMEROY – (November, 2004)
Director of Operations
Prior to working for LaBudde Joe has spent many years working in the Automotive Industry, Joe enjoys the daily challenges working for LaBudde and working with a great LaBudde team. In his spare time, Joe enjoys spending time with his family and friends. He also enjoys Auto Racing, Motorcycles and shooting pool.
---
Sandy Ciolek – Office Manager
---
Michelle Opperman – Office Assistant