---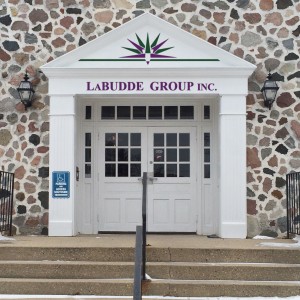 CEDARBURG, WI OFFICE
W63 N583 Hanover Avenue
Cedarburg, WI 53012
Phone 262-375-9111
Fax 262-375-9058
Email: labudde@labudde.com
In order to provide you with expertise service across a broad spectrum of products, we have created LaBudde Group. Our diverse team is comprised of individuals with experience in different industry facets, and expertise in specific markets–each monitoring prices and conditions worldwide that may affect you.

---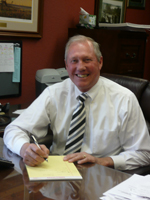 RICHARD ERICKSON – (1981)
CEO
In 1986, he purchased the business from the previous owner, Dick Apple, and has pursued and expanded markets since that time. Richard is involved in developing new sources of supply as well as helping to negotiate annual and longer-term contracts. He is also involved in the larger salvage and special opportunities as well as foreign work. With employees increasing from three at the beginning to about 60 today, most of Rich's time is now spent in overall management and looking for growth possibilities. Hobbies include collecting metal lunchboxes and Pez dispensers, playing softball and travel to different wine producing areas of the world with his wife, Mary. A few of the highlights of his life include running with and getting trampled by the bulls in Pamplona, experiencing Machu Pichu early in the morning when it was virtually deserted, being buried alive and living to tell about it, being one of the first Americans granted access to the Russian White House after the breakup of the Soviet Union, appearing in a photograph in Forbes Magazine with T. Boone Pickens, completing a dozen full and half marathons (all after his second heart attack), building houses for the poor in Guatemala and, most of all, being able to spend time with all the friends in his life with the most special being his wife Mary.
E-mail: rich@labudde.com
---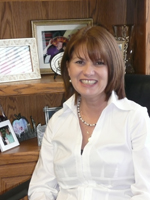 MARY SCIASCIA – (January, 1996)
Vice President – Finance
Co-owner of Labudde Group and works directly with the President. She has been instrumental in the implementation of our computer systems including designing the company software to meet our specific needs. She brings with her 30 years of accounting and office management experience. Mary is in charge of internal accounting functions as well as maintaining proper relationships with all our banking partners. She loves gardening, travel, spending time with her friends and being a grandma.
E-mail: mary@labudde.com
---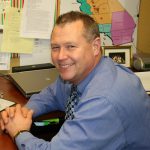 JED FRANK – (October, 2013)
Vice President – Customer Development
In addition to a leadership role at Clean Dried Processing since October 2013, Jed's responsibilities also includes growing the Labudde sales and building relationships with all of Labudde's customers and suppliers. Prior to joining Clean Dried Jed work for 28 years managing, buying and planning for a major department store chain. Jed's free time is spent with his wife and daughter. Jed is also an avid hunter and fisherman.
E-mail: jed@labudde.com
---
JOE POMEROY – (November, 2004)
Vice President –  Business Development
Prior to working for LaBudde Joe has spent many years working in the Automotive Industry, Joe enjoys the daily challenges working for LaBudde and working with a great LaBudde team. In his spare time, Joe enjoys spending time with his family and friends. He also enjoys Auto Racing, Motorcycles and shooting pool.
E-mail: joe@labudde.com
---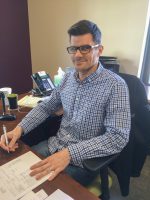 JONATHAN GUTOSKI – (September, 2016)
Controller
Prior to joining LaBudde, Jon worked as a Financial Analyst at MillerCoors Brewing Company. He has most recently been the Controller for Kerry Foods North America. Jon is also working on his Master of Business Administration at Indiana University's prestigious Kelley School of Business. In his spare time, Jon enjoys spending time with his family and working on projects around the house.
E-mail: jonathan@labudde.com
---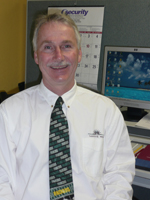 RON HOFSTAD – (May, 1988)
Ingredient Specialist
Previously the Office Manager, he became interested in merchandising and in February 1996, he switched from the administration to marketing. Prior to joining LaBudde, Ron spent 16 years in the transportation industry following graduation from UW Stevens Point.
E-mail: ron@labudde.com
---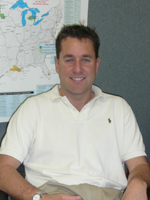 PATRICK RICHARDSON – (April, 2008)
Ingredient Specialist
Patrick's focus is with Organic and Conventional feed ingredients around the world. His background is over 11 years of experience in negotiations of new business development and prides himself with long-term customer relationships. Outside of work he enjoys hunting with his Black Lab (Madison), Barefoot Skiing and Fishing.
E-mail: patrick@labudde.com
---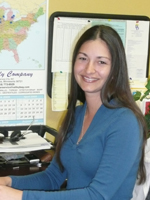 NELA DEUTMEYER – (October, 2008)
Ingredient Specialist
Nela has more than seven years of customer service experience and a background in sales, marketing and languages (Spanish and Italian). She enjoys traveling and outdoor activities like camping and hiking with her husband, children and dogs.
E-mail: nela@labudde.com
---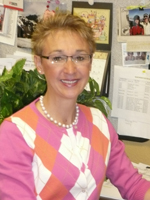 MONI KOSLOSKE – (March, 2006)
Ingredient Specialist
Prior to joining LaBudde, Moni worked for 18 years in merchandising sales and customer service. At LaBudde she enjoys getting to know the customer's needs and making sure they receive the best, quality service. In her spare time, Moni enjoys making jewelry and coaching a dance team, most of all she enjoys spending time with her family bicycling, skiing and traveling.
Email: moni@labudde.com
---
SANDY DICKMANN – (March 2007)
Human Resource Manager
Responsibilities include but not limited to processing payroll, benefit coordinator and general administrative support. In her leisure time she enjoys spending time with her family and friends.
E-mail: sandra@labudde.com
---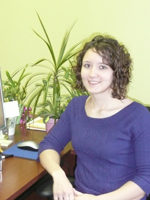 AMANDA HELNES – (January, 2008)
Accounting Manager
Duties include problem solving, A/R, invoicing, and inventory. Outside of work, Amanda enjoys spending time with family and friends and rooting on the Brew Crew!
E-mail: Ahelnes@labudde.com
---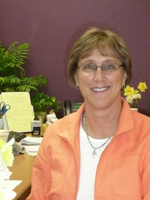 PAM DORSHA – (December, 2004)
Accounts Payable Manager
Pam began at LaBudde as a part time assistant in the accounting dept and received on the job training to move into this exciting position. She enjoys working with a talented and dedicated group of people. Outside the office Pam loves to travel, golf, read, walk, watch Packers, Brewers, and college basketball & soccer, and enjoy time with family and friends.
E-mail: pam@labudde.com
---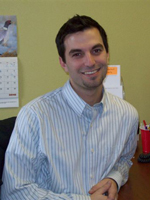 JOEL DEUTMEYER – (August, 2009)
Director of Marketing
Joel has been with the Labudde Group for over 7 years. He enjoys design and has a passion for photography. In his spare time, he likes to spend time in the outdoors, camping and hiking with his wife, two children and 2 dogs.
E-mail: joel@labudde.com
---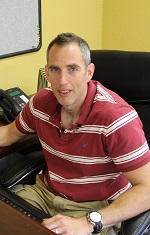 MARK FARVER – (June, 2013)
Trader
Mark joined LaBudde Group in June of 2013. Previously, he spent 20 years working in human services before deciding to make a career change and join the LaBudde team. In his spare time, Mark enjoys traveling, exercising and spending time with his wife and son.
E-mail: mark@labudde.com
---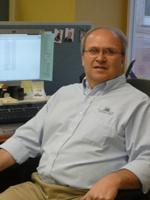 ALLAN ERICKSON – (June, 1999 – Cherry Valley, IL)
Ingredient Specialist
Prior to working with LaBudde, he farmed for 20 years in the Monroe Center, IL, area raising corn, soybeans, and hogs. Allan finds merchandising feed ingredients all over the country to be very interesting, and puts customer service and satisfaction as a top priority. Two of Allan's favorite hobbies are working outdoors in his yard, and cheering on his Chicago Cubs.
E-mail: allan@labudde.com
---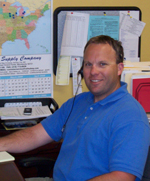 STEVEN KOOLHAAS – (July, 2003 – Mission Viejo, CA)
Ingredient Specialist

Originally from Chino, California, Steve came to LaBudde after spending several years marketing feed commodities in Arizona & Colorado. He is a 1997 graduate of Dordt College. He enjoys the surprises and opportunities that merchandising ingredients offers. In his spare time he enjoys outdoor activities, reading and travel.
E-mail: steven@labudde.com
---

TOM MONGOVEN – (NOVEMBER 2015)
Business Development
Tom joined LaBudde Group in November of 2015. Prior to joining LaBudde, he spent several years in the financial services industry. He graduated from Marquette University in 2005 and enjoys following their basketball team. In his free time, Tom likes to spend time with his wife and three daughters.
E-mail: Tom@labudde.com
---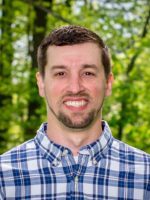 MICHAEL MINSTER – (NOVEMBER, 2016)
Sales Representative
Michael came to LaBudde in 2016 after spending the last 8 years in customer service and sales. The last two were spent specializing in Property & Casualty and life insurance sales. He prides himself in creating long-term customer relationships. Outside of work, he enjoys spending time with his family and being outdoors.
E-mail: Michael@labudde.com
---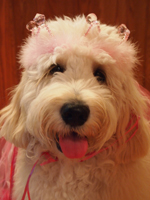 GRACIE MAE SCIASCIA – (2010)
Employee Relations & Chief Beggar
I, Gracie Mae, report to no one, although the VP of Finance thinks I report to her. I have two main jobs here at LaBudde Group. The first one is as the food and product tester. I try to make sure that everything that people are eating at their desks or in the kitchen meets my quality approval. My second, and most important job, is visitor relations. I make sure every visitor to LaBudde is properly greeted as I know they are mostly here to see me. I really watch hard every day for the big brown truck because that guy often pulls a treat for me out of his pocket! One of my favorite days is Thursday because I get to see lots of my friends at the senior center. As a certified therapy dog, I look forward to the opportunities to help those in need of special support and am much more famous than my mom and dad, but I will try to stay humble, knowing God has put me here for a special reason.